zero
nicotine

organically
derived base

vegan
friendly

NO artificial
additives

born in
the UK

100%
recyclable
Traveller's Exclusive
This is it. The flavour explosion you've been waiting for. We're talking six devices in our all-new MAX design that's sleeker than any other ripple⁺ – but contains even more puffs (1,000 per device: work that one out).
The flavours are reformulated and more intense, but we know you can handle it. Plus we've thrown in all six of our mouthwatering aromas because variety is the spice of life
DUFRY EXCLUSIVE
Jur
Netherlands 🇳🇱
"Discovered ripple⁺ in Ibiza airport and now a month later at home ordered my second set of ripples. Love the website, love the fast shipping and most important: love the taste and experience of my ripple⁺. I think it's gonna help me switch out the old nicotine for a little healthier alternative".
Hanneke
Netherlands 🇳🇱
"Never experienced plant powered puffs before and it is sooooo much better then all the vapes etc I tried before. The flavours are awesome and the puffs are as they should be, no sour throat, but pleasant and tasteful (and I have bought almost all the flavours they have and the rechargeable pods & the 1000 puffs ones). Finally hope to win the battle against nicotine with ripple⁺. One on my favourite shopping list now."
Laura
UK 🇬🇧
"This was my first experience with ripple⁺ and honesty not only are the products amazing so is the customer service! They were so kind and were so quick to answer any questions I had. My fave products are the call of fruity pack as I'm a huge fruity person! I would 1000% trying ripple⁺! It'll be the best experience you have."
Katy
UK 🇬🇧
"Ripple's products have been excellent as a part of quitting nicotine for me. The mix of flavours keep it exciting and mean I never get bored. The devices deliver the smoothest flavour and are far more gentle than any other vapes I've tried. Will be purchasing again and again :)"
CPT
UK 🇬🇧
"I had been using the disposables and they were lovely and just received my pod system, I love ripple⁺! The flavours are spot on, quite subtle but not artificial, just really natural and tasty. They are smoother than any other vape I've tried, doesn't make me cough like other vapes. Best part is I'm off nicotine now which I thought would be impossible after 15 years of smoking. Customer service is great too always get a quick and attentive response from the team about my orders. Thank you ripple⁺ 🙏"
Luke
Germany 🇩🇪
"This product beat any expectation I had, effortlessly. The quality and service were impeccable. I received my product within 3 days and was super excited to try it out. Super pleased with this product. Thank you for the amazing services provided."
Saffie
UK 🇬🇧
"The best packing ever and ripple⁺ design is so beautiful and stylish! I love the stickers with each order and I love the limited edition ripples along with the special stickers! Makes me want to buy them more!! Also I love the offers and I think the brand is really generous with discounts which makes me want to buy more and happier with the shopping experience!"
Niko
UK 🇬🇧
"The best purchase I've ever made in my whole entire life!! So far, of the flavours that I got; Peppermint, Mango, Passion fruit, and pomegranate, they taste soo good!! The cooling effect from each one of them is helping my husband from not smoking cigs anymore and that's just so amazing!! Nicotine sucks!! Ripple⁺ all the way!!"
The all-new ripple⁺ MAX: a flavour-packed, fully recyclable device with 1,000 puffs wrapped up in our sleekest design. Check out our full range of aromas below.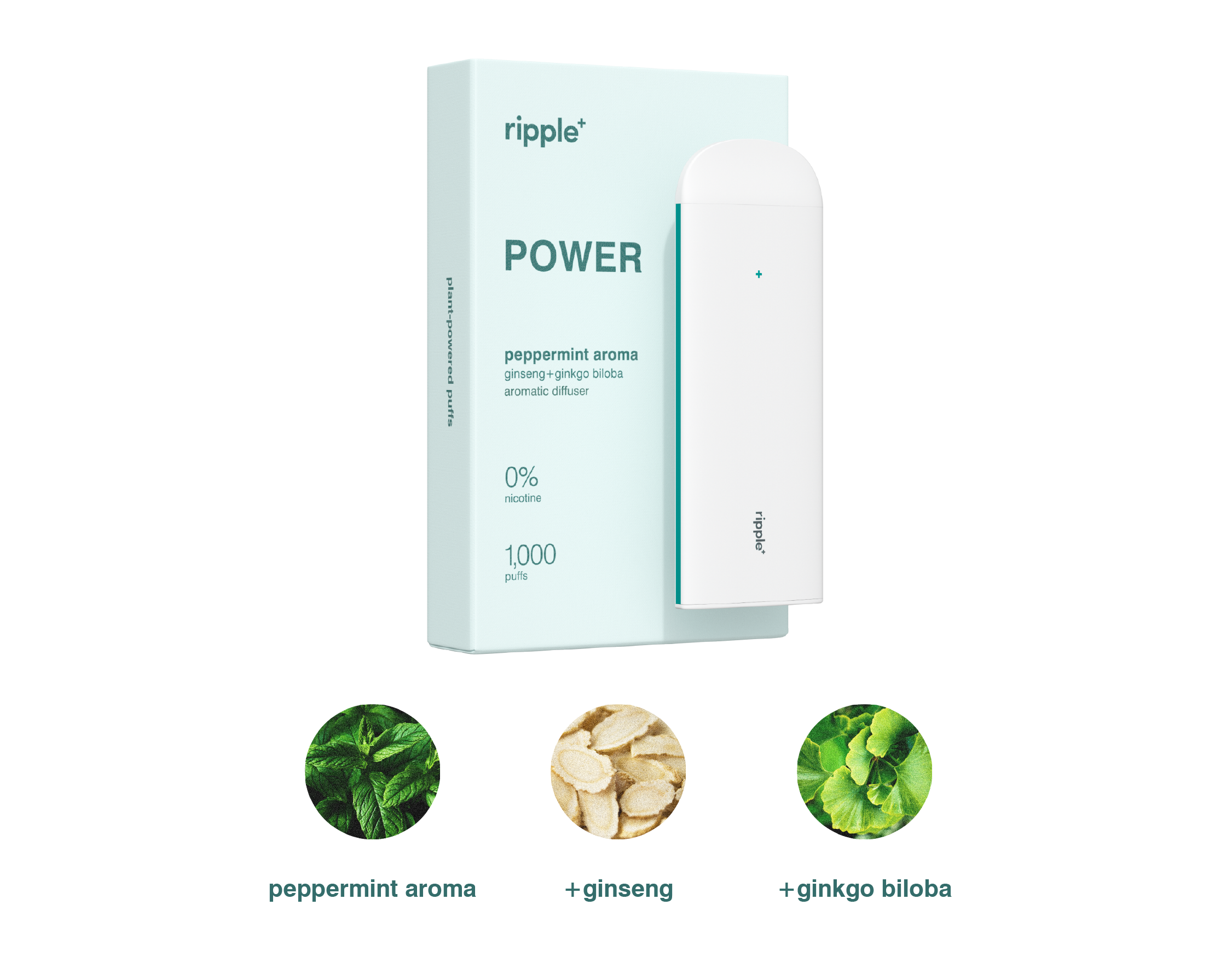 POWER
Time to take POWER; your favourite minty-fresh aroma! Formulated in the ripple⁺ lab to deliver 1,000 puffs of cool minty bliss.
Infused with plant extracts of ginseng root and ginkgo biloba, each device has been formulated in the UK & designed to deliver pure peppermint-flavoured goodness for a natural energy lift and non-stop tingly refreshment.
As always, vegan, organic & recyclable by design. 🌱♻️ 
peppermint aroma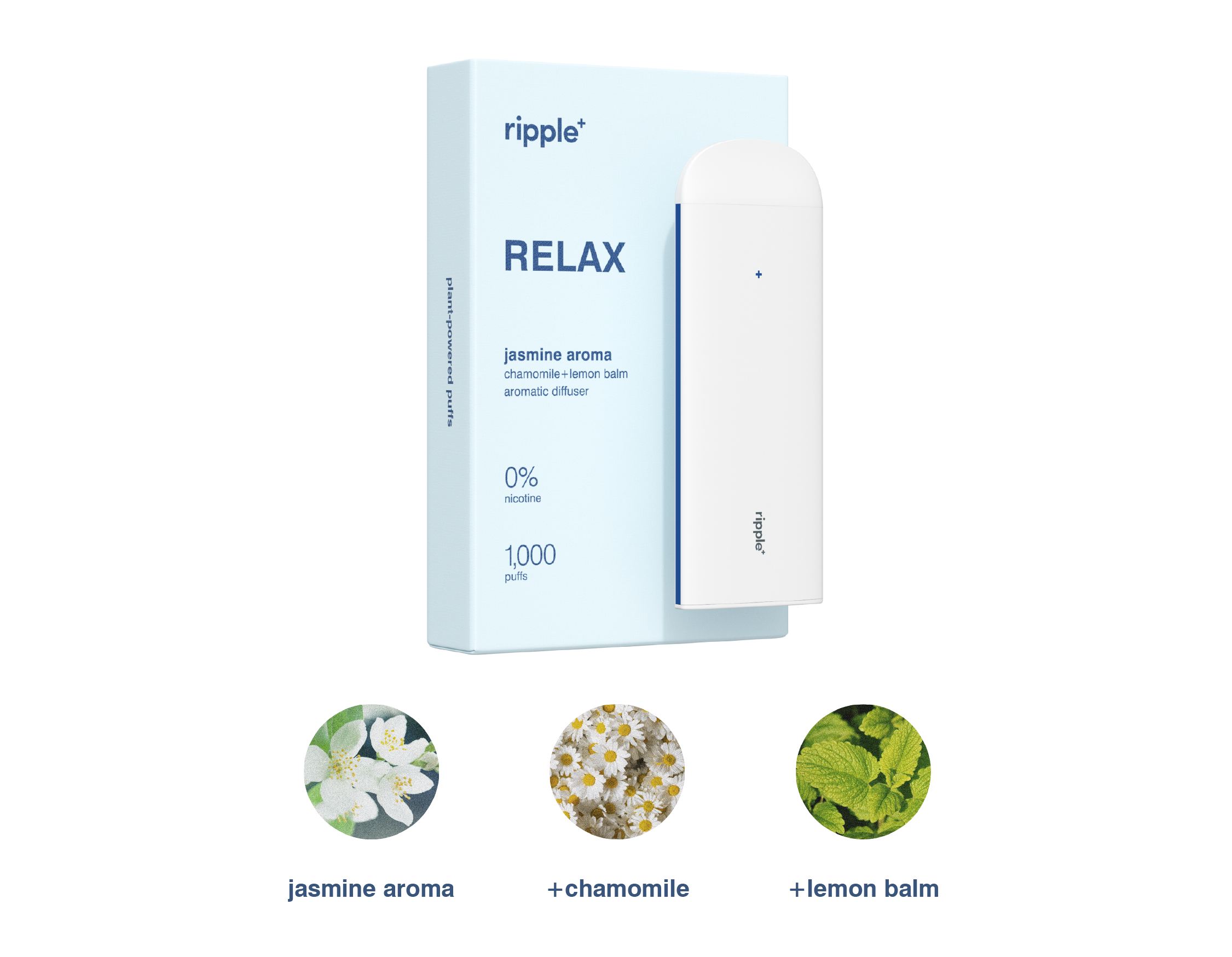 RELAX
Slow down & RELAX; your magical jasmine aroma has arrived. Lovingly developed in the ripple⁺ lab to deliver 1,000 puffs of simply botanical bliss.
This dreamy jasmine aroma blends the natural, functional plant extracts of the chamomile flower and soothing lemon balm for a state of complete chill.
As always, vegan, organic & recyclable by design. 🌱♻️ 
jasmine aroma
DREAM
Sweet dreams just got even sweeter. Lovingly developed in the ripple⁺ lab to deliver 1,000 puffs of pure botanical bliss.
This peaceful blend balances the natural plant extracts of jujube seed and valerian flower with a tranquil lavender aroma. The result? Calming puffs that will encourage you to slow down.
As always, vegan, organic & recyclable by design. 🌱♻️ 
lavender aroma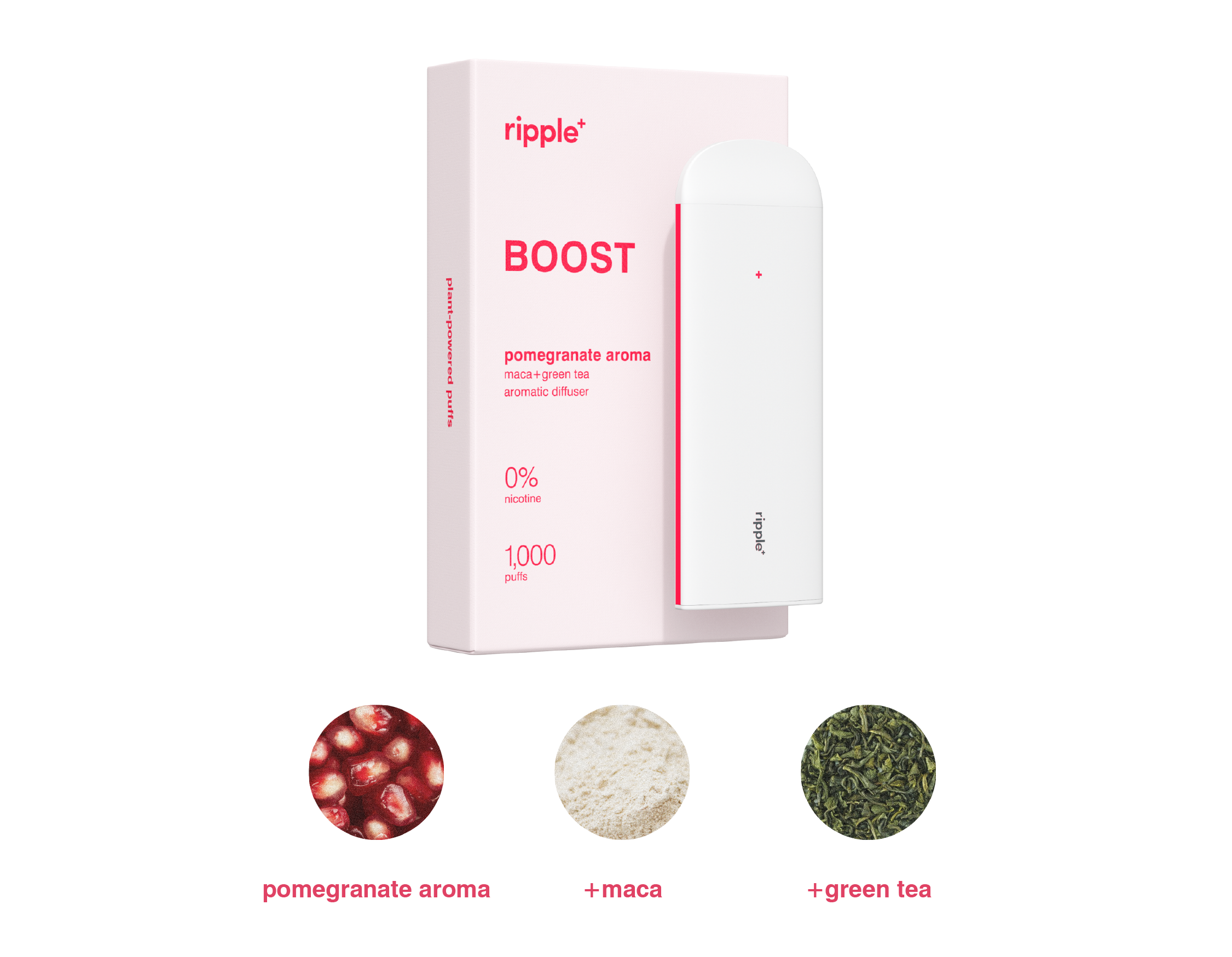 BOOST
Presenting ripple⁺ MAX: BOOST edition. Developed in the ripple⁺ lab to deliver 1,000 puffs of pure plant-powered pep!
Even bigger flavour than before: we're talking 1,000 inhales of lethargy-fighting zing for that natural pop of energy. Combining the functional plant extracts of green tea and maca, this tropical blend has been reformulated with a delicious new pomegranate aroma that tastes amazing.
As always, vegan, organic & recyclable by design. 🌱♻️ 
pomegranate aroma
FOCUS
FOCUS combines the functional extracts of brain-boosting bacopa + fatigue fighting sage and is topped off with a mouth-watering mango aroma for a delicious fruity taste.
The tropical blend is designed to uplift your mood and transport your senses to sunnier places.
As always, vegan, organic & recyclable by design. 🌱♻️ 
mango aroma
HAPPY
HAPPY days are coming with this feel-good tropical oasis.
Blended with anxiety-relieving schisandra and calming limeflower, the passion fruit aroma is packed with even more flavour, helping you to combat stress and be transported to a smiley state of mind.
As always, vegan, organic & recyclable by design. 🌱♻️ 
passion fruit aroma
"The brand's nicotine-free, plant powered diffusers feature unique combinations of natural ingredients and are created with every mood in mind"
"In an age of busier-than-ever-lifestyles, ripple+ has gotten aromatherapy right. Their plant-powered aromatic diffusers have become an on-the-go wellness staple."
"ripple⁺ has revolutionised aromatherapy for good, with custom combinations of ingredients such as peppermint, tropical mango and jasmine."